Born in Desio in 1971, Raffaele Cioffi graduates at the Liceo Artistico "Papa Ratti", where he begins to devote his interest in painting.
He clears up the trend of his survey and his own language by attending the Accademia di Belle Arti di Brera in Milan and with the acquaintance of established artists like Claudio Olivieri and Mario Raciti, both belonging to the "Pittura Pittura" movement.
Since the nineties he begins to exhibit in private galleries and public institutions in Italy and abroad.
His first solo exhibition is held in 2001 at the Young Museum in Revere (Mantova), in that occasion the catalog "Il volto dell'anima" edited by Claudio Cerritelli is published.
In 2003 he exhibits his works from the series "Prospettiva interiore" at the Chiostro di Voltorre – Museo d'Arte Moderna in Gavirate (Varese).
His works titled "Continuum" are published in 2005 in the catalog of the same name edited by Francesco Tedeschi.
The catalog "Lo spazio emotivo della pittura", edited by Giovanni Maria Accame and Matteo Galbiati, illustrates the solo exhibition held in 2009 at the Museo Nazionale Villa Pisani in Sta (Venice).
In 2011 he is invited by Vittorio Sgarbi to the special exhibition of the 54th Biennale di Venezia in the Sala Nervi of the Palazzo delle Esposizioni in Turin.
In 2013 Villa Bagatti Valsecchi in Varedo (Monza Brianza) is the location of the exhibition "Sipario", accompanied by the catalog edited by Claudio Olivieri.
In 2014 he produces a series of works on the theme of the cross that are presented in the exhibition "Alla luce della Croce" at Villa Clerici – Galleria d'Arte Sacra dei Contemporanei and in the church of San Bernardino alle Ossa in Milan.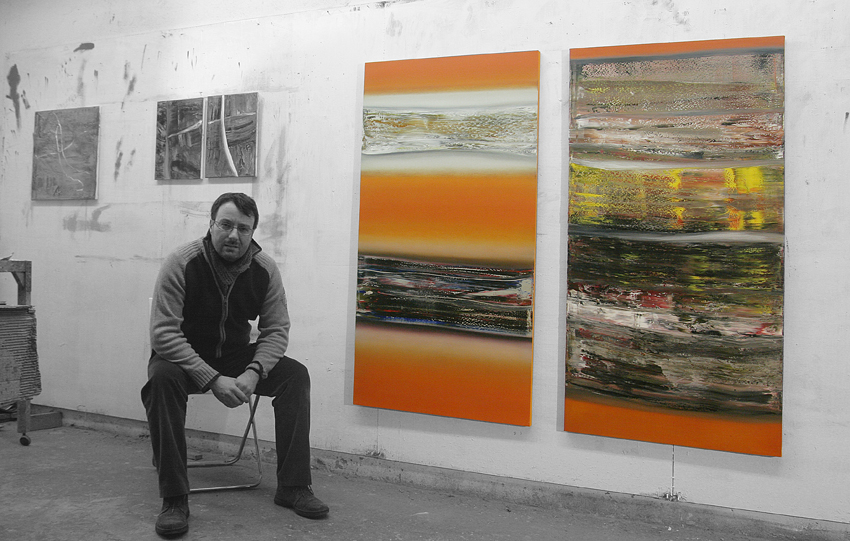 EXHIBITION
2018
Odyssey of lights, Eye Contemporary Art Gallery, Hong Kong
Gemaltes Licht / Luce dipinta, Frankfurter Westend Galerie, Frankfurt – solo exhibition (catalogue)
2017
Lightscreens, LM Gallery Arte Contemporanea, Latina – solo exhibition
2016
Solidità della luce, Museo Civico, Palazzo Cuttica, Alessandria – solo exhibition (catalogue)
Una storia di pittura a Nova Milanese, Villa Vertua Masolo, Nova Milanese (Monza Brianza) – solo exhibition
Fluidità del paesaggio, Gallery Cart, Monza – solo exhibition (catalogue)
2015
Casa dello Zecchiere, Milano
Lux Lucis, Frankfurter Westend Galerie, Francoforte – (catalogue)
2014
Alla luce della Croce, Chiesa di San Bernardino alle Ossa, Milano – solo exhibition
Alla luce della Croce, Villa Clerici – Galleria d'Arte Sacra dei Contemporanei, Milano – solo exhibition (catalogue)
Omaggio a Michelangelo, Frankfurter Westend Galerie, Francoforte – (catalogue)
2013
Sipario, Villa Bagatti Valsecchi, Varedo (Monza Brianza) – solo exhibition (catalogue)
2012
Il ritmo del colore, Spazio e Tempo Progetto Arte, Cagliari – solo exhibition (catalogue)
Il senso e il colore, The White Gallery, Milano
Biennale di Venezia Padiglione Italia, Torino
2011
L'aur'amara, Ex Chiesa di San Carpoforo, Milano
Il ritmo del colore, Spazio Concept, Milano – solo exhibition
Arte Accessibile, Il sole 24 ore, Milano
2010
Der emotionale Raum der Malerei, Galerie Vorstadt 14, Zug – solo exhibition (catalogue)
2009
Museo Nazionale Villa Pisani, Stra (Venezia) – solo exhibition (catalogue)
Spazio Tadini, Milano – solo exhibition
Galleria Alexander Alvarez, Alessandria – solo exhibition
2008
Spazio Guicciardini, generazioni anni '70, Milano
Galleria Silvano lodi & due, il rosso e il nero, Milano
2007
Villa Bertarelli, Din Don Arte, Galbiate (Lecco)
Palazzo della permanente, Profilo d'Arte, Milano
Civico Museo Parisi-Valle, generazione anni '70, Maccagni
2005
Galleria Pangeart, Bellinzona (Svizzera) – solo exhibition
Esposizioni fieristiche, Galleria Concetti d'Arte, Osnago (Lecco) – (catalogue)
2003
Galleria Sekanina, Ferrara – solo exhibition
Galleria Edieuropa, Roma – solo exhibition (catalgue)
Galleria Ezio Mariani, Seregno – (catalogue)
Chiostro di Voltorre – Museo d'Arte Moderna, Gavirate (Varese) – solo exhibition (catalogue)
2002
Civica Pinacoteca di Lissone, Lissone (Milano)
Open. Art gallery, Milano – solo exhibition
Visione Interiore itinerante – (catalogue)
Palazzo Bargnani Dandalo, Adro (Brescia)
Villa Glisenti, Villa Carcina (Brescia)
Fondazione Cicogna Rampana, Palazzolo sull'Oglio (Brescia)
Chiesa dei Disciplini, Castenedolo (Brescia)
2001
Young Museum, Museo d'Arte Contemporanea, Revere (Mantova) – solo exhibition (catalogue)
Cavenaghi Arte, Milano – solo exhibition
1999
Rassegna di Pittura Bice Bugatti, Nova Milanese (Milano)
XXXIX Premio Suzzara, Suzzara (Mantova)
1998
BSH, Milano
1997
Centro Culturale Maggi, Sesto San Giovanni (Milano)
Rassegna di Pittura Bice Bugatti, Nova Milanese (Milano)
1996
Premio San Carlo Borromeo, Palazzo della Permanente, Milano
Galleria Lodi, Los Angeles
1995
Salone Clerici ACLI, Milano
1994
Galleria Morone 6, Milano
1993
Villa Ghirlanda, Cinisello Balsamo (Milano)
1991
Il Centro, Nova Milanese (Milano)
1989
Villa Reale, Monza
1988
UCAI, Milano